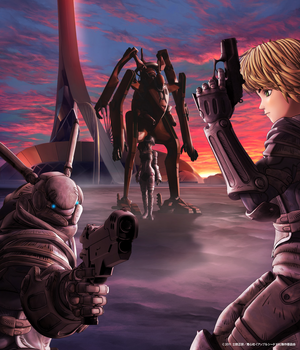 Appleseed XIII (sometimes referred to as XIII or 13 for short) is the 2011 relaunch of the series following the 2003 and 2007 films.
APPLESEED 13 UPDATES for July 2012:
December: Unlimited Translations Works finished releasing the first 3 subtitled episodes.
September:
August:
July:
June:
Appleseed XIII
(アップルシード 13) is a
Japanese
science-fiction
anime series based upon the works of
Shirow Masamune
, and the manga saga he wrote beginning in 1985. Taking it's place alongside three other related
motion picture
releases, Appleseed XIII distances itself from the others by claiming to follow more closely the original material written by the author, and also by featuring almost entirely new production members.
[3]
That said, a few connections with the earlier interpretations have been maintained through
Micott and Basara
(planner for the 2004 and 2007 episodes), and Atsushi Takeuchi (
mecha
design for the 2004 film). Previous director
Shinji Aramaki
is not involved in this new production.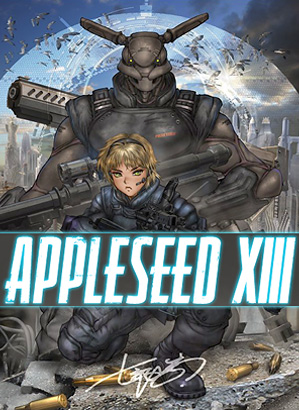 The saga is set in mid 22nd-century Earth, and takes place following at least two world wars. The planet has been largely depopulated, few organized countries exist, and yet numerous power struggles still continue, serving to threaten even the dying remainder of mankind with total destruction. Amidst the chaos stands two shining exceptions: the city-state of Olympus, located on a manufactured island in the South Atlantic, and the leviathan industrial nation of Poseidon, a recreated Japan.
Olympus claims, or at least assumes, control of the earth through its overarching government, which comprises mostly of "Bioroids." These are humans who are genetically perfected prior to birth, to feature improved biology, but most importantly, peaceable instincts and utmost political neutrality. Aided by an impartial supercomputer named Gaia, their aim is to rebuild and repopulate the planet as Utopian paradise, with a portion of their species mingled in the general population, so as to insulate humankind from their own destructive nature.
However, the small nation has struggles of its own to contend with. The rest of the world is not so content with Olympus' plans for their future, and resist these efforts, typically through terrorism, both home and abroad. Domestically, a new organization has formed in the shadows of the gleaming metropolis, called the Human Liberation Front, representing all of those who oppose the existence and leadership of the Bioroids. Giving this group its teeth are the terrorist Argonauts, lead by Al Ceides, a man presumed dead some twenty years earlier during a siege upon Poseidon.[5]
Battling these threats and others, is the Olympus ESWAT, or Extra Special Weapons And Tactics team, an elite paramilitary force which employs the latest in cybernetics, advanced weaponry, and powered-armor flight suits known as Landmates. Appleseed XIII revolves around their efforts to maintain law and order, and tells its story through the actions of two war-weary operatives: Deunan Knute and her partner, cyborg Briareos Hecatonchires, ex-mercenaries from the last global war, two people committed to preserving the ideal of Olympus, even if they themselves have yet to agree with it.
Series Appearance
Edit
Graphically, the new series appears to draw heavily on two sources, first the artwork provided by Shirow Masamune in the original manga (graphic novel) series, and second, the more contemporary look of the 2004 CGI movie. The individually distinct look of 2007's Appleseed Ex Machina, co-directed by John Woo, has not been carried forward.[6]
Like the two earlier efforts, Appleseed XIII is animated using motion-capture and CGI, and similar to the 2004 movie, features a variation of cel-shading on the characters and props, while going a step further and adding what appears to be pen strokes and subtle traces of ink, as though the anime is really a hand-drawn manga which has come to life. The palette employed contrasts between bright colors in the urban environments of Olympus, to drab monochromes in the war-torn wastelands of the rest of the world, and also the various mecha. This again is a similar practice to the 2004 movie, though the contrast appears to be much higher between the settings.
All images from Appleseed XIII episode one, The End of Eden.
Series Carryovers
Edit
Landmates
Edit
In terms of Landmates, most designs originating in the 2004 film have been closely recreated, owing to mecha designer Atsushi Takeuchi's involvement in both works. One of the more prominent examples is a unit seen first in the older movie, being used by the antagonist of that installment, the ORA. In the trailer to the Appleseed XIII, produced seven years later, the very same design appears during a chase sequence, with minor coloration differences. The ESWAT Landmates in pursuit unsurprisingly also resemble examples from 2004, but are painted urban-camo gray, instead of the gloss white and fuchsia color schemes of the earlier movie.[8]
Mobile Fortresses
Edit
The multi-legged gun platform known as the Mobile Fortress also makes a return, only in a more spider-like form, faithful to the earliest visions seen in book two of the manga, "Prometheus Unbound." Unlike its 2004 appearance, where the Fortress was strictly earthbound, it now features anti-gravity levitation capabilities, and can slowly fly, just as Masamune had originally intended it to,[9] and, just like it was seen doing in the very first Appleseed movie from 1988.[10]
Vehicles
Edit
Briareos' three-wheeled cyborg motorbike makes its first motion-picture debut, after previously being exclusive to the earlier mangas. The ESWAT Wasp Insertion Aircraft returns following Appleseed Ex Machina, but is closer in appearance to Masamune's older pen sketches, and lacks exposed anti-gravity rails.
Timepieces
Edit
The popular watches of Appleseed Ex Machina have made a return, in the form of the Citizen Appleseed XIII satellite watches. Check out their own page for a video that features additional CGI footage of the series and detailed renderings of a male and female version of the watch. Unlike Ex Machina, these appear to be available for general sale, although in a limited edition of 990 pieces worldwide.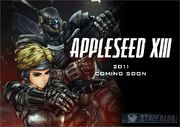 In the first press-release graphic for Appleseed XIII, which imitates the artwork used for the 1988
Appleseed (OVA)
,
Deunan Knute
is clearly depicted gripping a
Seburo
M-5
handgun. This caused some controversy since the weapon was never seen in Appleseed, as the Seburo
Bobson Centennial 6MM
had instead typically been Knute's concealed-carry sidearm.
[11]
While the
M-5
also hearkens from another Masamune work,
Ghost in the Shell
,
[12]
it's placed in a saga which is set nearly a century earlier than the events of Appleseed, and is arguably not related nor a prequel.
Prior to her use of the Bobson Centennial 6MM, Deunan Knute sometimes employed an antique Colt M1911 style handgun.[13] Such a gun appears in the official trailer being used by her, albeit with a more angular Seburo-style trigger guard, suggesting it is a 22nd-century reproduction or licensed variation.
Battle Armor
Edit
ESWAT's battle armor suits return to the original design of the manga and first two movies, following a significant deviation in 2007's Appleseed Ex Machina. They once again feature overlapping armor panels on the shoulders, and rigid, ribbed forearm reinforcements. Deunan Knute also resumes the practice of wearing gloves that lack fabric over the index finger for added dexterity when handling triggers, as depicted previously.
Characters
Edit
Deunan Knute and ESWAT Commander Lance make relatively unchanged reappearances, whereas Briareos Hecatonchires sports a face seen only in the third and fourth volumes of the manga, featuring only two cybernetic eyes, as opposed to four (and a large round nose which is typically mistaken to be a fifth eye). His eyes are blue, as they were in the 1988 movie. Hitomi, who has looked distinctively different in every movie so far, reverts to her manga appearance, and features long, full black hair, and accurate Japanese symmetry.
The soundtrack of Appleseed XIII is being composed by Japanese pianist Conisch, with direction from Youta Tsuruoka.[14] Domestically in Japan, Conisch is well known for his work on various television series, and also for penning the soundtrack to the Yu-Gi-Oh! anime,[15] among others.
Originally, it had been rumored that a Toshimichi Otsuki would compose the soundtrack, but this prediction proved incorrect, as Ootsuki is actually the manager for Starchild, a music production company owned by Japan's King Records. Starchild has since been confirmed to be the producer/distributor for the Appleseed XIII soundtrack.[16]
Voice Actors
Edit
Reprising his role of Briareos Hecatonchires is the Japanese voice actor Kōichi Yamadera, who provided his voice for the character in Appleseed Ex Machina. Deunan Knute will be voiced by a newcomer, Japanese pop-artist Maaya Sakamoto; previously, her character had been handled by Ai Kobayashi.[17]
The English voice cast is mostly the same as Ex Machina and the redub of Movie 1, however Emily Neves, Micah Solusod, and Charlie Campbell replaced Hilary Haag, Chris Patton, and Chris Hutchison as Hitomi, Yoshitsune, and Lance respectively.[18]
Release Schedule [19] Edit
Counter to popular belief, Appleseed XIII will not be broadcast on network TV. Instead, will be released as a combination of movie-theater debuts, online streaming episodes, and optical disc sets.
Appleseed XIII: Yuigon Edit
Using material from the first half of the series, Yuigon will debut first in theaters found in Tokyo and Osaka, on June 13, 2011. Yuigon will then be screened in Nagoya June 27.
Appleseed XIII
Edit
The regular, thirteen installment anime series officially began on June 1, 2011, with a preview screening of the first episode, The End of Eden online, at midnight in Japan. Episodes two and three can be viewed by purchasing a limited edition BluRay box set (see below). The fourth installment, through to the thirteenth, will follow in July via the streaming format.
Appleseed XIII: Yogen Edit
A compilation of material found in the second half of the series, Yogen sees it's debut in Tokyo (and not Osaka) on October 24, 2011, before being screened in Nagoya, November 7. This appears to conclude the series.
Limited Edition BluRay Box Set [20]Edit
While a limited edition debut BluRay release has been known for some time, the Appleseed XIII production committee recently announced that a special box set will also be sold at the premiere of the series, at selected theaters in Japan. Retailing for ¥10,000 (approximately US $125/CDN $120), fans will be given a three-episode disc in high-definition, a 48-page Appleseed XIII Archives, another softback entitled The Making of Appleseed XIII, as well as promotional material for the forthcoming Citizen Eco-Drive Satellite Wave. Purchasers will also be entitled to a complimentary framed poster, on a first-come, first-serve basis.
This graphic is a signed and numbered reproduction of a recently finished colour sketch by series creator Shirow Masamune, who has skillfully combined the spirit of the new series with the graphic style of the original manga. The site stresses that the posters are in extremely limited quantity; no doubt these giveaways will command a high-resale value in the future.
Audience reception of the new series appears to be divided, but fairly strong.
Poll results on The Appleseed Wiki
Edit
We hosted a poll from March 9 to June 29, asking users for their feedback regarding the first official Appleseed XIII trailer. With 117 respondents, the final result was that 68 percent of viewers liked the trailer, with 32 percent expressing disappointment.
Another short poll, which ran for a couple weeks in June, asking for opinions on the promo poster by Shirow Masamune, found that out of 10 respondents, nine liked the poster, while one respondent disliked it.
North American Release
Edit
It has been confirmed that Appleseed XIII will be released in North America sometime during 2013. [22] More details to follow.
References
Edit
The first problem concerns the subject which we discussed in our prefatory remarks. It is this-(1) whether the investigation of the causes belongs to one or to more sciences, and (2) whether such a science should survey only the first principles of substance, or also the principles on which all men base their proofs, e.g. whether it is possible at the same time to assert and deny one and the same thing or not, and all other such questions; and (3) if the science in question deals with substance, whether one science deals with all substances, or more than one, and if more, whether all are akin, or some of them must be called forms of Wisdom and the others something else. And (4) this itself is also one of the things that must be discussed-whether sensible substances alone should be said to exist or others also besides them, and whether these others are of one kind or there are several classes of substances, as is supposed by those who believe both in Forms and in mathematical objects intermediate between these and sensible things. Into these questions, then, as we say, we must inquire, and also (5) whether our investigation is concerned only with substances or also with the essential attributes of substances. Further, with regard to the same and other and like and unlike and contrariety, and with regard to prior and posterior and all other such terms about which the dialecticians try to inquire, starting their investigation from probable premises only,-whose business is it to inquire into all these? Further, we must discuss the essential attributes of these themselves; and we must ask not only what each of these is, but also whether one thing always has one contrary. Again (6), are the principles and elements of things the genera, or the parts present in each thing, into which it is divided; and (7) if they are the genera, are they the genera that are predicated proximately of the individuals, or the highest genera, e.g. is animal or man the first principle and the more independent of the individual instance? And (8) we must inquire and discuss especially whether there is, besides the matter, any thing that is a cause in itself or not, and whether this can exist apart or not, and whether it is one or more in number, and whethe
Community content is available under
CC-BY-SA
unless otherwise noted.