| | | |
| --- | --- | --- |
| | This article contains information that applies MOSTLY to Shirow Masamune's original manga interpretation of the Appleseed saga. | |
The Seburo Bobson Centennial is a fictional, blowback operated automatic handgun, used frequently in the Appleseed manga [1] [2] [3] by series heroine Deunan Knute, [4] alongside a Colt M1911 style handgun.
Ammunition
Edit
Approximately the size of a Walther PPK/S concealed-carry pistol, [5] the Bobson uses 6 millimeter bullets, fed from a 23-round capacity magazine conventionally loaded into the hand grip. Bobson 6mm rounds are HV-class (high-velocity) in nature, and are suggested to behave similarly to 10mm rifle ordinance. In appearance, they are much slimmer than traditional 9mm handgun bullets, and also significantly longer. [6]
Ignition variety
Edit
Ignition is provided by a double-action trigger, which releases a striking hammer.
Other info
Edit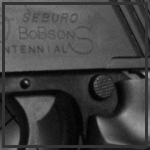 The Bobson is designed primarily for right-handed operation, as the shell casing ejection port is located on the right side of the weapon.
One of Seburo's first designs, dating back prior to the arm-maker's acquisition by Poseidon, Centennial Editions are in limited production around the year 2126, featuring a prominent signature along the right side of the handgun's blowback slide.
Notes and References
Edit